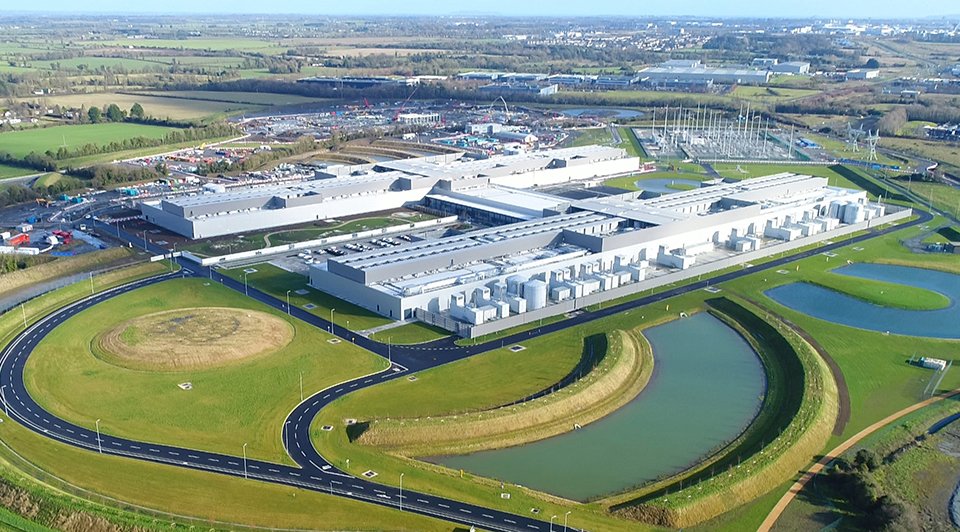 Integrated BIM tools help keep project on track
There's much to like about Facebook's new Clonee Data Centre in Clonee, Ireland. Supported by 100% wind energy, the Clonee Data Centre is a complex that includes a pair of 25,000-square-meter (approximately 269,000 square feet) data halls designed to bring Facebook apps and services to people around the world. As many as 1,500 people per day contributed to the construction of these centers, with project general contractor Mace Technology Ireland leading the construction phase of the undertaking. To keep the project on track, Mace and the extended project team relied on the BIM 360 cloud-based platform for construction management and the integrated BIM (Building Information Modeling) tools in the Architecture, Engineering & Construction Collection. "We orchestrated the whole project in BIM 360 with schedules linked to models," says Paddy Ryan, program BIM lead for Mace. "During construction, we validated activities as they happened. It's important to not just have a solid plan, but also to validate progress against it. Delays, defects, and surprises are less likely when you align what's happening in the field—as it happens—to what's in the plan."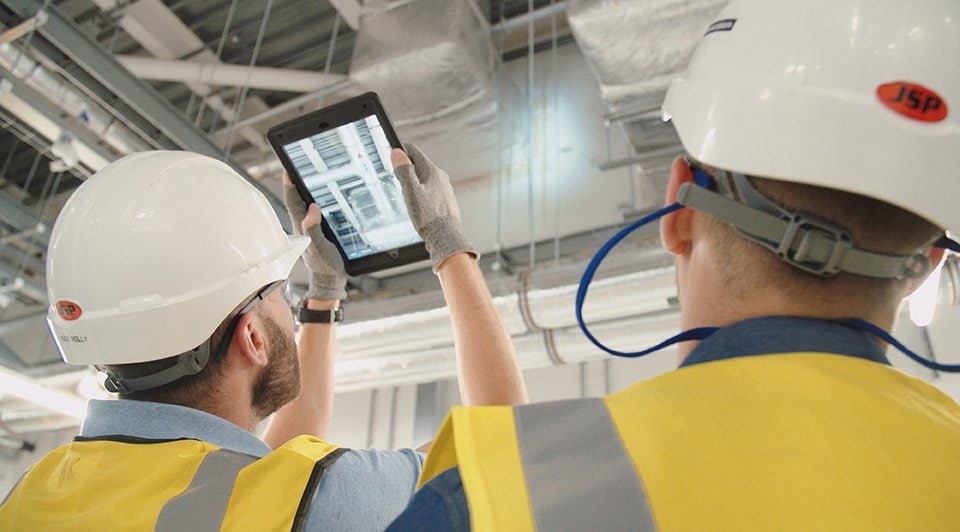 COLLABORATING ON PRECONSTRUCTION IN THE CLOUD
After completing phases one and two of the project using BIM 360 during construction, Mace decided to use BIM 360 to spearhead preconstruction coordination for phase three. This allowed for cloud-based clash detection using design models, which let the entire project team review and address issues and adopt lessons learned from previous phases. For many on the design and construction teams, cloud-based coordination was a new experience. BIM 360 gave the team access to the design models, as well as easy-to-use construction-management tools. In order to keep momentum on digital implementation, Mace provided proactive training and online how-to videos and gave regular awards for the most active BIM 360 contributors. With everyone coordinating and collaborating on the project together using BIM 360, the project team overcame the timing and clash issues that can hamper projects without proactive preconstruction planning for later project phases. The team documented more than 336 lessons learned from the process and incorporated them into phase three. Seeing merit in this, the team decided to implement preconstruction collaboration for future projects.
"You can have the best technology, but it doesn't really do much good unless you have backing from the whole team. We had that on the Clonee Data Centre project for Facebook. From the client to the trades, everyone on the project bought into the use of BIM and cloud technology. Now, it's hard to imagine doing a project like this any other way." —Paddy Ryan, BIM Lead, Mace
AUTOMATED MODEL AGGREGATION SAVES TIME
Mace automated the process of aggregating the design team's Revit BIM models, reducing the time spent each week on model management from 440 minutes to just 10. Because Navisworks project-review software integrates simply with BIM 360 in the cloud, design, construction, and client-side teams could collaborate in real time on up-to-date, automatically federated models and automated clash reports using slave machines from any location. This tight connection across teams helped Mace manage supply-chain performance and track progress in real time. The result was reduced RFIs, rework, and time spent in meetings.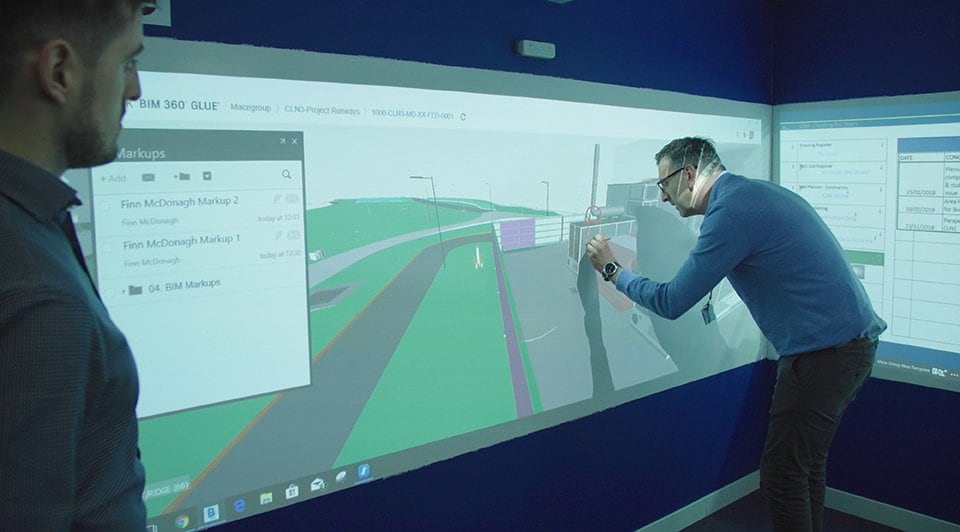 LASER SCANS, DRONES, AND VR KEEP PROJECT ON TRACK
As construction progressed, the team managed the quality and inspection process using BIM 360 in the field. The team built websites that stored live automated data to track progress daily. It also hosted videos on how to use tablets and cloud-based checklists. The team captured, analyzed, and resolved outstanding items quicker. Virtual-reality (VR) technology gave Facebook insight into progress, with the construction team facilitating VR walk-throughs of the model before drawings were created, reducing unapproved cycles. QR codes on equipment let the team scan equipment during commissioning and track deliveries. Drones flying overhead helped the team monitor construction on the massive project site. Facebook wanted accurate as-builts to help facilitate ongoing operations and maintenance of the data center. Mace turned to laser-scanning technology to create precision as-builts. Each area of the data center received multiple scans to capture an accurate model of supports, walls, building systems, and more. The team used the scans to update the Revit models, giving it the ability to resolve conflicts on-site and use BIM 360 for ongoing management of the data center after construction.
DELIVERING MORE, FASTER, WITH NO DEFECTS AT HANDOVER
Using cloud-based construction management on the project, Mace reports that managers saved more than 13 hours each week—helping them be 35% more productive overall. Typical site users saved 12 hours each week on document control. Organizations that participated in the quality assurance and controls processes saved more than 14 hours each week. Mace determined that employees on the construction site that were actively contributing information to BIM 360 were 21% more productive overall.